The United Nations estimates that the livelihood of nearly 3 billion people was made secure by the co-operative enterprise1. International Cooperative Alliance estimates that there are close to one billion individual members of cooperatives2. The UN declared 2012 the International Year of the Cooperative, recognising the contribution of cooperatives to poverty alleviation, employment generation and social integration. But the contribution of cooperatives goes well beyond this. Some argue the model trains people in democracy3, others argue the model contributes to peace4 and still others argue it contributes to sustainable development.
In many ways, 2012 was like a coming out party for the global co-operative movement. For the first time, there was a common logo that co-operatives around the world embraced and for many co-operatives, it was the first time they wore the co-operative model on their sleeves. Building on this success, the International Co-operative Alliance launched the Blueprint for a Co-operative Decade. The Blueprint is intended to guide the co-operative movement to become "the acknowledged leader in economic, social and environmental sustainability; the model preferred by people and the fastest growing form of enterprise"5.
The ICA narrowed in on two strengths of the co-operative movement - participation and sustainability. Setting aside the question of participation, for now, the ICA wondered whether sustainability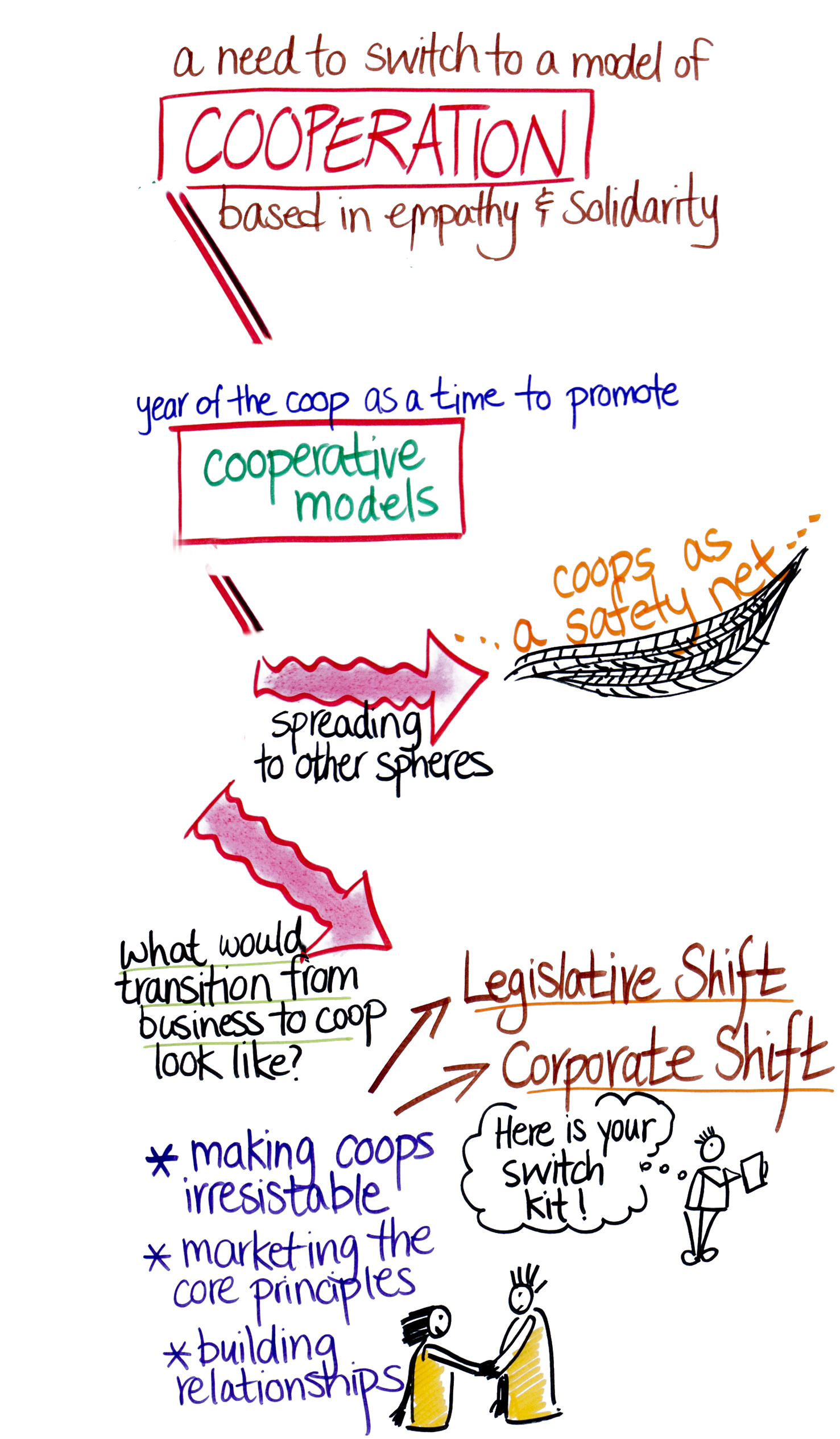 is a characteristic unique to co-operatives. This is a question that the CRC on Sustainable Community Development and SSG have been exploring for several years in papers and events including the Bateman Conversation on Progress and Growth in the 21st Century, the Action Agenda: Rethinking Growth and Prosperity (2012), Cooperatives as an antidote to economic growth6 and case studies on Cooperators Group and Mountain Equipment Co-operative.
SSG and the Canada Research Chair (Sustainable Community Development) are collaborating with the International Cooperative Alliance (ICA) on a high-level scan of sustainability practices in cooperatives around the world. We presented our findings in Cape Town, Africa at the ICA General Assembly and Conference and compiled a final report, containing recommendations for moving the sector more fundamentally towards sustainability. To contribute to this work, we have designed the next Solutions Agenda e-Dialogue to focus on the co-operative model and the role it can play in sustainable community development.

Discussion
The complete discussion can be downloaded here.

Innovators Descriptions
Below are brief descriptions of four leading innovations helping to shape sustainable energy futures.

Vancity (Vancouver City Savings Credit Union)
Vancity's goal is to create positive member and community impact through all of its operations—from how Vancity makes money to how it spends and invests it. Vancity is committed to finding new and better ways to use all of its resources, people and capital to create large-scale positive impacts. This way of doing business differentiates Vancity from traditional financial institutions. By redefining wealth, Vancity is measuring its success in terms of the health and vitality of the community as a whole. Vancity manages the financial cooperative with ongoing commitment to environmental performance; Vancity measures its impact and maintains a commitment to carbon neutral operations. Vancity is working to leverage Vancity's leadership and our members' $17 billion in assets to help drive bigger, deeper and broader social and environmental impact in our communities. Vancity provides advice, technical support, community investment, and financing that is enabling businesses, co-ops, social enterprises and not-for-profits to co-create healthy communities and a vibrant local green economy.
Shift is a Vancouver worker co-op that aims to transform the delivery industry in urban areas and strengthen the local economy. Shift hauls a wide variety of goods in heavy-duty cargo tricycles, replacing delivery trucks for regular trips in the downtown core.
The nimble design of its 'trikes' offer a unique ability to use bike lanes and gain front-door loading access, providing efficiency advantages to its clients. Shift is focused on exceptional service and handle each package with personal care because the workers share ownership of the co-operative enterprise. And Shift helps to build resilient, livable communities by getting noisy, polluting trucks off the road and offering a clean, friendly service with zero tailpipe emissions.
The Vancouver Tool Library (VTL) is a cooperative tool-lending centre located in on Commercial Street in East Vancouver. VTL serves as a community resource, providing locals with access to tools for the construction and maintenance of the structures and devices people use for their day-to-day life, work, and play. In this manner, VTL contributes to the building of a sharing economy.
VTL staff body consists of two people, and thus it heavily relies on volunteer effort, which includes the Board of Directors and VTL members. Volunteer positions range in function and responsibilities, including managing the shop, sitting on committees (working groups chaired by VTL Directors), assisting with fundraising events, help maintain and upgrade tools, and aid with other library operations. VTL has the ability to attract a strong volunteer base as it operations are guided by community-based values - inclusivity, empowerment, community building, member participation, and sustainability.

EnerGreen Builders Co-operative
EnerGreen Builders Co-operative is a worker-owned co-operative and has eleven member/owners, each bringing unique construction experience and skills. EnerGreen is committed to building and maintaining high-quality sustainable buildings and endeavours to use environmentally friendly building materials and practices. Based in the Tantramar region of southeast New Brunswick, EnerGreen is committed to using local trades-people and goods produced in this region, as much as possible.

Discussion Participants

Professor Ann Dale, Moderator, holds a Canada Research Chair in Sustainable Community Development at Royal Roads University, School of Environment and Sustainability. A former Trudeau Fellow Alumna (2004), she is a Fellow of the World Academy of Arts and Science, chairs the Canadian Consortium for Sustainable Development Research (CCSDR), a Board Member of the World Fisheries Trust. and the founder of the National Environmental Treasure (the NET). Current research interests include governance, social capital and agency, biodiversity conservation, place-based and virtual sustainable communities. She is a recipient of the 2001 Policy Research Initiative Award for Outstanding Contribution to Public Policy for her book, At the edge: sustainable development in the 21st century. Professor Dale is actively experimenting with research dissemination and social media, and has launched HEADTalks.

Maureen Cureton is Vancity's Green Business Manager, working to help advance a local sustainable economy. She works with colleagues, community partners and local businesses on opportunities and solutions for supporting social ventures and environmentally progressive business development. Outside Vancity, Maureen has co-authored 3 books on sustainability issues, and she designs and teaches courses on sustainability in business for UBC, Royal Roads, and Thompson Rivers University.

Graham Anderson is an activist and social entrepreneur with a passion for sustainable transportation and the power of co-operatives. He is a co-founder of Shift Delivery Co-op, a worker co-op using cargo trikes for deliveries in Downtown Vancouver. Graham volunteers on the board of the East End Food Co-op, as well as the city's Active Transport Policy Council. He studied Economics, Dialogue, and Sustainable Community Development at SFU.

Chris Diplock has spent the last few years working with different community organizations in the lower mainland and recently received his certificate in Community Economic Development. Diplock's experience has involved serving on the Board of Directors for both a worker coop and a community service coop. In 2011, he co-founded the Vancouver Tool Library, a cooperative tool lending library which loans out a wide variety of tools for home repair, gardening, and bicycle maintenance.

Eric Tusz-King is a founding member and manager of EnerGreen Builders Co-operative in Sackville, New Brunswick, Canada, and founding member and Chair of Open Sky Co-operative Board. He has taken LEED courses for commercial buildings and residential homes. He is also a co-operative developer working part-time with the Co-operative Enterprise Council of New Brunswick, and Diaconal Minister in The United Church of Canada where he worked with social justice, community development, and environmental issues for 28 years. Eric is Atlantic Director of the Board of Directors and Vice-President of the Canadian Worker Co-operative Federation.

Ian MacPherson, Professor Emeritus of History, is a former Department Chair, Dean of Humanities, and director of the British Columbia Institute for Co-operative Studies at the University of Victoria. He has written, edited and co-edited twenty books as well as some 175 articles. He has presented over 300 papers at numerous conferences in many countries. Most of his work has been concerned with the Canadian and international co-operative movements and with Co-operative Studies as a distinct field of enquiry. An elected co-operative official for over forty years, he has received several awards from the provincial, national, and international co-operative movement. He chaired the process and wrote the documents whereby the International Co-operative Alliance developed an Identity Statement for the Twenty-First Century at its Manchester Congress, 1995.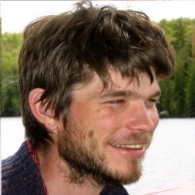 Yuill Herbert is a founding director with Sustainability Solutions Group (SSG). Yuill has worked on sustainability consulting projects in the spheres of community planning, sustainability assessments and green buildings. Major projects include the development of an open source model to evaluate the climate change impacts of municipal plans, the development of a carbon neutral course for Cascadia Green Building Council and a sustainability assessment for Concordia University. Yuill also helped introduce the LEED for Homes rating system in Canada. He has advised municipal, provincial and federal governments on policies related to sustainability and is active in sustainable development research.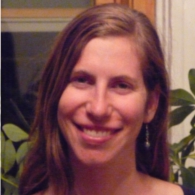 Rebecca Foon is an urban planner dedicated to integrating a holistic understanding of sustainability in growing healthy communities. She is an accomplished organizer and facilitator, sustainability management systems creator, sustainability assessment leader, and green building consultant. She has extensively researched water-related environmental issues in North America and India in partnership with the Indian Institute of Management. More recently, she worked as a sustainability/creative consultant for Planet Green's urban environment television series Wa$ted (Discovery Challen), and is the LEED coordinator for Proment Development's new residential development project targeting LEED gold in Montreal, Canada.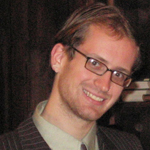 Rob Newell completed an undergraduate in Biology and Statistics (University of Victoria), but developed a keen interest in the communication of environmental trends and sustainability ideas over the last six years while working in the design, development and delivery of environmental education programs and completing a graduate thesis on approaches to effective environmental communications (MA in Environment and Management, Royal Roads University). Rob is committed to exploring and discovering new methods of communicating sustainability to broad and diverse audiences, and his work has included developing environmental education programs for settlement agencies and project leading in Asia, Africa, and the South Pacific. Rob is involved in developing creative and interactive ways of disseminating CRC research ideas and getting the greater public involved with the research program.

Resources
The International Cooperative Alliance was established in 1895, and represents cooperatives around the world and the cooperatives movement.
Co-operating for Sustainability is an interactive map produced through the Sustainability Solutions Group that displays and allows users to identify cooperatives around the world.
The Sharing Project is a  multi-staged research project focused on engaging citizens, institutions and organizations in developing Vancouver's sharing economy.
Cooperative is an animation that conveys how issues of resource depletion and/or pollution generation arise through people acting in their own self-interest around a common good, i.e., 'the tragedy of the commons' (Hardin, 1968), and how such issues can be addressed through cooperative solutions.
Cooperatives and Sustainability: An investigation into the relationship is a report that details results of a partnership project, between the Sustainability Solutions Group and Community Research Connections, that investigated the relationship between the cooperative model and sustainable development. The outcomes from this research were presented at the International Cooperatives Alliance (ICA) 2013 Global Conference in Cape Town, and the presentation can be downloaded from here.
---
1ICA (2011). Co-operative facts and figures. http://ica.coop/en/whats-co-op/co-operative-facts-figures
2Ibid.
3See the International Co-operative Information Centre: http://www.uwcc.wisc.edu/icic/orgs/copac/member/un/int-day/950701/pub-info.html
4See the Committee for the Promotion and Advancement of Cooperatives: http://www.copac.coop/idc/2006/
5ICA (2012). Blueprint for a Co-operative Decade. http://ica.coop/sites/default/files/media_items/ICA%20Blueprint%20-%20Final%20version%20issued%207%20Feb%2013.pdf
6Paper presented at St Mary's University Symposium on Cooperatives and Public Policy