On February 27 2015, the diverse group of innovators, researchers and practitioners who participated in the Solutions Agenda e-Dialogues convened at Royal Roads University in the Centre for Dialogue to discuss strategies and approaches for guiding Canadian communities toward sustainable development. This peer-to-peer learning exchange of over 35 participants was the final step in developing the Solutions Agenda, that will outline an action agenda for Canadian decision-makers. Below is a list of participants, a slideshow presentation of 'nuggets of gold' from the e-Dialogues, and graphical notes produced from the peer-to-peer learning exchange.

Participants
Patricia Ballamingie, Carleton University (Associate Professor)
Michael Ableman, Founder, SOLE Food (Farmer, author and photographer)
Maureen Cureton, Vancity (Energy, Environment & Local Economy, Community Investment)
Chris Diplock, Co-Founder, Vancouver Tool Library
Mary Herbert-Copley, Knowledge Curator, Changing the Conversation
Jodi Mucha, Executive Director, BC Healthy Communities
Paul Allison, Supervisor, Gardens and Grounds, Royal Roads University
Ashlee Cunsolo Willox, Canada Research Chair in Determinants of Healthy Communities, Assistant Professor, Community Health, Department of Nursing, Cross-Appointed with Indigenous Studies, Cape Breton University
Bill Reimer, Professor Emeritus and Adjunct Professor, Concordia and Brandon University
Dianne Looker, Professor Emerita, Acadia University
Lenore Newman, Canada Research Chair in Food Security and the Environment and Professor of Geography, University of Fraser Valley 
Brian Roberts, Project Lead, Community Carbon Marketplace
Stani Veselinovic, Manager, Hornby's Recycling Depot
Marika Smith, Executive Director, Victoria's Compost Education Centre
Vincent Schutt, Co-Founder, Stable Climate Choices
Wayne Caldwell, Director and Professor, School of Environmental Design and Rural Development, University of Guelph
Eric Tusz-King, Founding Member and Manager, EnerGreen Builders Co-operative


Research Team

Ann Dale, Royal Roads University
Elaine Dale, Ottawa, Ontario
Rob Newell, Research Associate, Community Research Connections Program, Royal Roads University
Yuill Herbert, Director, Sustainability Solutions Group
Rebecca Foon, Director, Sustainability Solutions Group 
Aftab Erfan, Graphic Facilitator, Whole Picture Thinking


Student Researchers

Eric Brown, MA Student, Royal Roads University
Alastair Moore, Doctoral Student, University of Manchester, MC3: Meeting the Climate Change Challenge
Dominica Babicki, Doctoral Student, Aix-Marseille-Université


Facilitators

Jeremy Murphy, Sustainability Solutions Group (Director)
Chris Ling, Royal Roads University
Leslie King, Royal Roads University
Marilyn Taylor, Royal Roads University
Ben Clark, Royal Roads University
Chris Strashok, Royal Roads University
Bill Dushenko, Royal Roads University


Panelists

Elizabeth May, Member of Parliament for Saanich-Gulf Islands, Leader of the Green Party of Canada
Andrea Reimer, Councillor, City of Vancouver
Mike Milinkovich, Former Mayor, Black River-Matheson

 
Nuggets of Gold

To stimulate discussion during the breakout sessions, a rolling slideshow was on display throughout the learning exchange. Click on the image below to download a PowerPoint copy of the slideshow.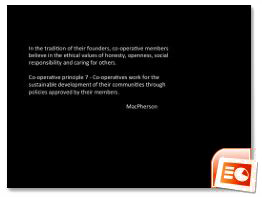 Graphic Notes
Click on each graphic image to explore the outcomes of the learning exchange.