By: Jaime Clifton, Research Curator
Harvard Art Museums just released a curated digital archive featuring 32,000 searchable works from their Bauhaus Special Collection. This ambitious project is similar to other digital repositories, as it features related artworks, prototypes, documents, prints, drawings, and photographs related to this influential design school. However, it goes beyond the standard digitized collection, documenting provenance and metadata. This microsite functions as a compelling learning resource that is completely open to students, scholars, and the general public. Under resources, the site shares related archives, bibliographies, exhibition history, and even an annotated map of Bauhaus-related websites. Its design and curated information channels Bauhaus attitudes as it not only unifies art with technology but also diligently and purposefully documents information.
While some critics argue that digitizing artifacts and ephemeral material devalues their materiality and distances them from their original context, others assert that "digital surrogates" provide access to knowledge. But technology always needs a purpose, which is why I believe curatorial practice helps focus web-based projects. Without it, online content will continue to become more and more unmanageable, hindering our efforts in mobilizing knowledge to a wider audience. The Bauhaus Special Collection is a wonderful initiative that will hopefully help influence the way we build web content.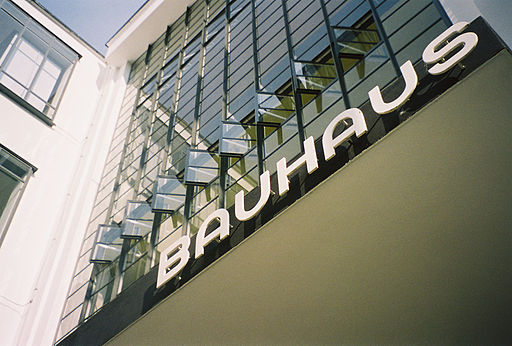 Type designed by Herbert Bayer for the Bauhaus in Dessau, above the entrance to the workshop block. Photograph by Jim Hood, May 2005, via Wikimedia Commons.
Topic