From Victoria to St. John's, the Trans-Canada Highway stretches across 8030 km of landscape in Canada. While it covers a lot of ground, it also fractures many habitats that are home to a variety of animals. Bears, moose, and even birds make dangerous crossings along highways and rural roads in search of food, shelter, and mates. And as our modern roadways become increasingly congested, more and more collisions are occurring. When travelling through Newfoundland, you can often spot signs along highways tallying the number of yearly moose fatalities.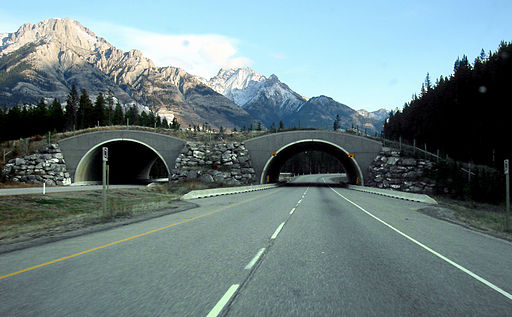 Trans-Canada Highway in Alberta, Canada, in the Banff National Park, between Banff and Lake Louise. Image via Wikimedia Commons.
To ensure safe passage for both wildlife and humans, ARC: Animal Road Crossing is building bridges (literally and figuratively) to help tackle this growing issue. As an interdisciplinary partnership, they are developing "new methods, new materials, new thinking, and new solutions" to reconnect the landscape. They began with a design competition back in 2010 that challenged diverse design teams to find solutions for animal road-crossing structures. To successfully reconnect the North American landscape, they had to be "cost-efficient, ecologically responsive, safe and flexible".
ARC, however, is taking the idea of road-crossing structures one step further. They are turning their innovative designs into "living, learning laboratories" that not only track animal movement but also use monitoring devices to bring the natural world to ours. As Nina-Marie Lister describes in the video below, the project is telling stories about the possibility of reconnection and reconciliation. They are stacking two worlds together while encouraging us to rethink space and reweave the landscape.