In spite of the dire predictions about Trump's withdrawal from COP 21, American states, cities and business people are leading in spite of this vacuum, given it just makes economic sense, never mind for ecological (GHG reductions) and social sense (a better environment). To date, 20 US states and more than 50 of its largest cities, along with more than 60 of the biggest businesses in the US, have committed to emissions reduction goals.
Added together, they have an economic power of about $10tn, placing this group behind only the US as a whole ($18.6tn) and China ($11tn) in terms of GDP. On Saturday at the Bonn conference on climate change, these groups joined together to make "America's pledge", a commitment to combat global warming, in stark opposition to the Trump administration.
Some delegates are arguing that they should go farther, and submit their own reports to the United Nations, to be subject to the kind of monitoring and accountability that is required from national governments under the UN process. This is in some ways a new form of more organic governance, both a bottom-up and a top-down approach, widening the sphere of accountability and innovation.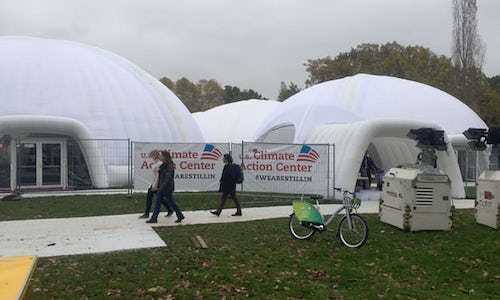 Image by Jonathan Watts via https://www.theguardian.com/