By Jaime Clifton-Ross, Research Curator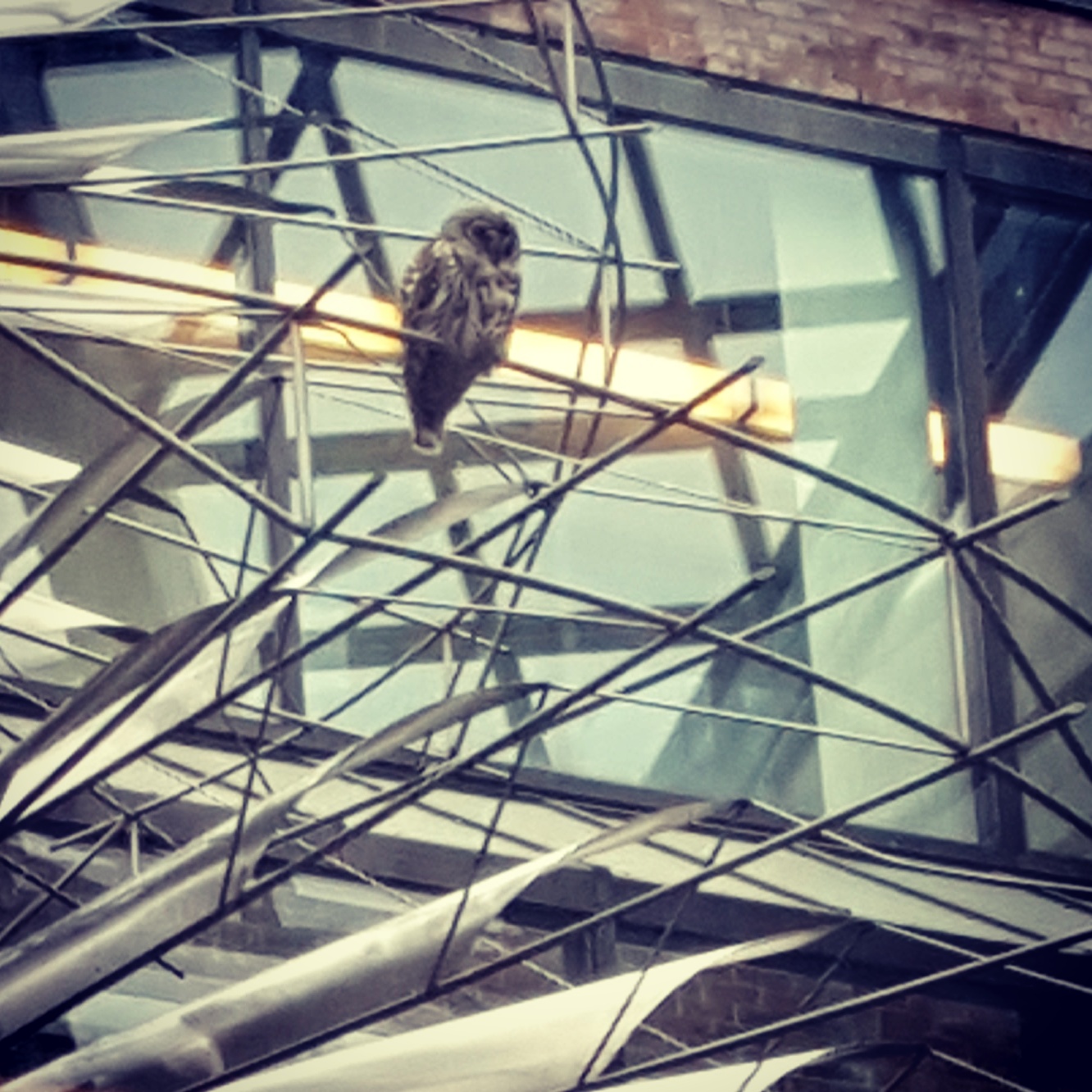 On the days that I don't work on campus, I am lucky enough to work from home. To get some fresh air and to clear my head, I often relocate to my local public library during the afternoons. It's part of a larger building, predominantly housing government offices, with a lively courtyard in the centre. With great acoustics and shelter from the rain, it's a bustling place for musicians and locals alike. There's even a large metallic sculpture that gently spins in the wind.
Recently, a new visitor has been causing quite a stir. A beautiful owl can often be seen perched atop the sculpture for hours on end. At any given time, passersby can be seen looking up in awe while civil servants eye the bird with fascination from the upper windows of their offices. Rumour has it the owl also takes up residence in front of a nearby pub. While it's pretty special to see an owl up close, especially outside a library, it's nice to see wildlife living in our urban spaces.
To learn more about the owl, I ventured into the 590 section of the library (zoology) and found an image that looked remarkably similar to my feathered friend in the courtyard. I originally assumed that she/he was a Northern Spotted Owl but it was brought to my attention that she/he is likely a Barred Owl. The Northern Spotted Owl, however, happens to be listed as an endangered species in Canada. Much to my dismay, there are fewer than 100 pairs left of this species in Canada. There used to be upwards of 1000 owls living in the old growth forests of the Pacific Northwest, however, due to habitat loss and human disturbances, their population has drastically declined. The Province of BC luckily launched a series of key recovery actions, including habitat protection and the establishment of a breeding ground.
While I'm always delighted to see this majestic owl in the courtyard, I can't help but wonder about her/his quality of life in our urban setting and whether or not she/he frequents more natural settings. This reminded me of Nature Needs Half, an initiative discussed during our Biodiversity Conversation series with Women for Nature. This program has put out a "global call to action to protect at least half of the planet, land and water, in an interconnected way to support all life on earth". Perhaps this owl's presence in my neighbourhood courtyard will help raise public awareness about species at risk in Canada. 
Image by Jaime Clifton-Ross.