Introduction
The way we use and plan the development of the space in which our communities exist is crucial to the creation of sustainable infrastructure and vibrant healthy communities. The planning process impacts how communities use their land, and how they grow and develop over time. All too often land use planning is carried out on an ad-hoc basis with development decisions being made in isolation from considerations of the long-term and consideration of the community landscape. This has led to urban forms that are pre-disposed to sprawl, car focused networks and separation of living, working and leisure spaces; the public realm deteriorates and opportunities for nature and social interaction decline.
Sustainable infrastructure demands planning that is efficient, helps support or create closer knit neighbourhoods and the sense of community with them, and preserves natural systems that existed on the land prior to human development. This e-Dialogue brings together a wide variety of Land Use Planners from across Canada to discuss how we can better plan for our future.

Join us at 4:00pm EST on Wednesday, December 13th , in a discussion featuring leading experts.
Moderator
Dr. Ann Dale, Professor,
Science, Technology & Environment, Royal Roads University
Trudeau Fellow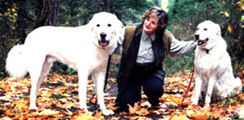 Dr. Dale is a rare hybrid, both an academic and an activist. Currently she is engaged in two major research initiatives at Royal Roads University. First, she is leading the e-Dialogues for Sustainable Development, a series of online dialogues exploring critical issues using the power of the internet to influence public policy. Second, she is working on exploring the relationship between social capital and sustainable community development.
 
Background
Infrastructure choices play a central role in the creation and maintenance of communities that are sustainable, livable, and prosperous. The challenge is to engage with people and their diverse cultures, interests, visions, priorities and needs. One of the major reasons sustainable community development remains largely unresolved within municipalities is gridlock in the planning and implementation processes for decision-making. There are basic disconnections between federal, regional and local governments, between rural and urban communities, and between business and research communities. The challenge is to encourage widespread adoption of the infrastructure decisions being made by communities on the lead-edge of adoption of more sustainable infrastructure.

This series of e-dialogues will explore infrastructure choices in the five focus areas of the Sustainable Infrastructure project: energy, transportation, waste management, land use planning and governance. We will also hold a wrap-up dialogue that finds common ground from these five areas. These e-dialogues will involve experts from the field discussing the critical infrastructure choices necessary for sustainable community development and leading-edge North American examples of sustainable infrastructure development. Through these dialogues, we hope to develop an understanding of how current municipal decision-making may lead toward achievement of sustainability objectives. We hope you will join us in these vibrant discussions.
Panelists
Ann Dale, Project Lead, Moderator

Ann Dale is a professor with the School of Environment and Sustainability, Faculty of Social and Applied Sciences at Royal Roads University and holds a Canada Research Chair in Sustainable Community Development (crcresearch.royalroads.ca). She chairs the Canadian Consortium for Sustainable Development Research (CCSDR), a consortium of all the heads of research institutes across Canada, and is active in the Canadian environmental movement. Dr. Dale chairs an organization she created, the National Environmental Treasure (the NET) and is the Executive Co-ordinator, Research and Public Policy for the Canadian Biodiversity Institute.  From 1998-2000, she led an energy efficiency program on behalf of the Association of Canadian Community Colleges. Previously, she was an Executive with the Federal Government, and was one of the two public servants behind the creation of the National Round Table on the Environment and the Economy (NRTEE).

Dr. Dale is a Trudeau Fellow (www.trudeaufoundation.ca), as well as a Fellow of the World Academy of Art and Sciences. She is also a Board member of the World Fisheries Trust, and the Advisory Committee to the Montreal Institute for the Environment. Dr. Dale holds degrees in psychology and public administration from Carleton University, and a doctorate in Natural Resources Sciences, McGill University. Current research areas include governance, social capital and sustainable community development, biodiversity policy, and deliberative electronic dialogues (crcresearch.royalroads.ca/edialogues). She is a recipient of the 2001 Policy Research Initiative Award for Outstanding Contribution to Public Policy for her book, At the edge: sustainable development in the 21st century.
Marla Zucht

Marla Zucht is the General Manager of the Whistle Housing Authority (WHA). During the past five years that she has been with the organization, she has been involved with the administration and management of the WHA's inventory of 164 rental restricted units as well as the policy development, housing covenant enforcement, and resale process associated with the 384 ownership units restricted to Whistler residents. As Whistler prepares itself for the 2010 Olympics and positions itself as a community dedicated to embracing sustainability, the WHA continues to be actively involved in the planning, design and development of new housing opportunities for Whistler residents. Marla holds a Masters degree in Planning and Environmental Studies, with a specialization in Community Planning and Sustainable Housing Design and Development.
 

Kevin Hanna

Now an Associate Professor at Wilfrid Laurier University, Kevin Hanna is originally from British Columbia. He grew up on his family's ranch in the southern interior. Before attending university Kevin had the opportunity to work in ranching, logging and salmon fishing.

Professor Hanna's recent work addresses issues in land use planning, urban competitiveness and quality of space, and the role of planning in the economic transition of resource-based communities. A strong thread in his research and writing is the analysis of environmental policy and the factors that affect implementation. He is an alumni of the University of British Columbia and also the University of Toronto, where he obtained his Ph.D.

Kevin is the editor of the books Environmental Impact Assessment, Process and Practice, and Fostering Integration: Concepts and Practice in Resource and Environmental Management (with D.S. Slocombe) both are published by the Oxford University Press. He is now working on an anthology titled Parks and Protected Areas: Design and Policy, (co-edited with Douglas Clark and D.S. Slocombe) forthcoming form Taylor and Francis.

Dr. Hanna also brings experience from Environment Canada where he has served as a consultant and a policy advisor and analyst for the Ontario Region.

Kevin Hanna has been a faculty member at the University of Toronto and now at Wilfrid Laurier University in Waterloo where he teaches environment and resource policy, impact assessment, and land use planning.
Dr. Tony Boydell

Tony Boydell is currently Director of the School of Environment and Sustainability at Royal Roads University, Victoria, British Columbia. He is the current chair of the Canadian University Environmental Science Network, a member of the Board of Directors of ECO Canada, and a member of the Steering Committee of the Commission on Education and Communication, IUCN.

Tony has been involved in sustainable community development since 1989 when he was an advisor to the British Columbia Round Table on Environment and Economy. In 1991, as Vice-President of J.D. Tait and Associates, involved in land and community development, he led the strategic planning and design for the Bamberton sustainable community project, working with North American leaders in Traditional Neighborhood Design, and sustainable transportation planning. Although Tony has little time for research these days, he was a contributing author in "A Dynamic Balance" (Dale & Onyx), and is a reviewer for the International Journal of Construction Management.
  Royal Roads University
School of Environment and Sustainability
edialogues@royalroads.ca