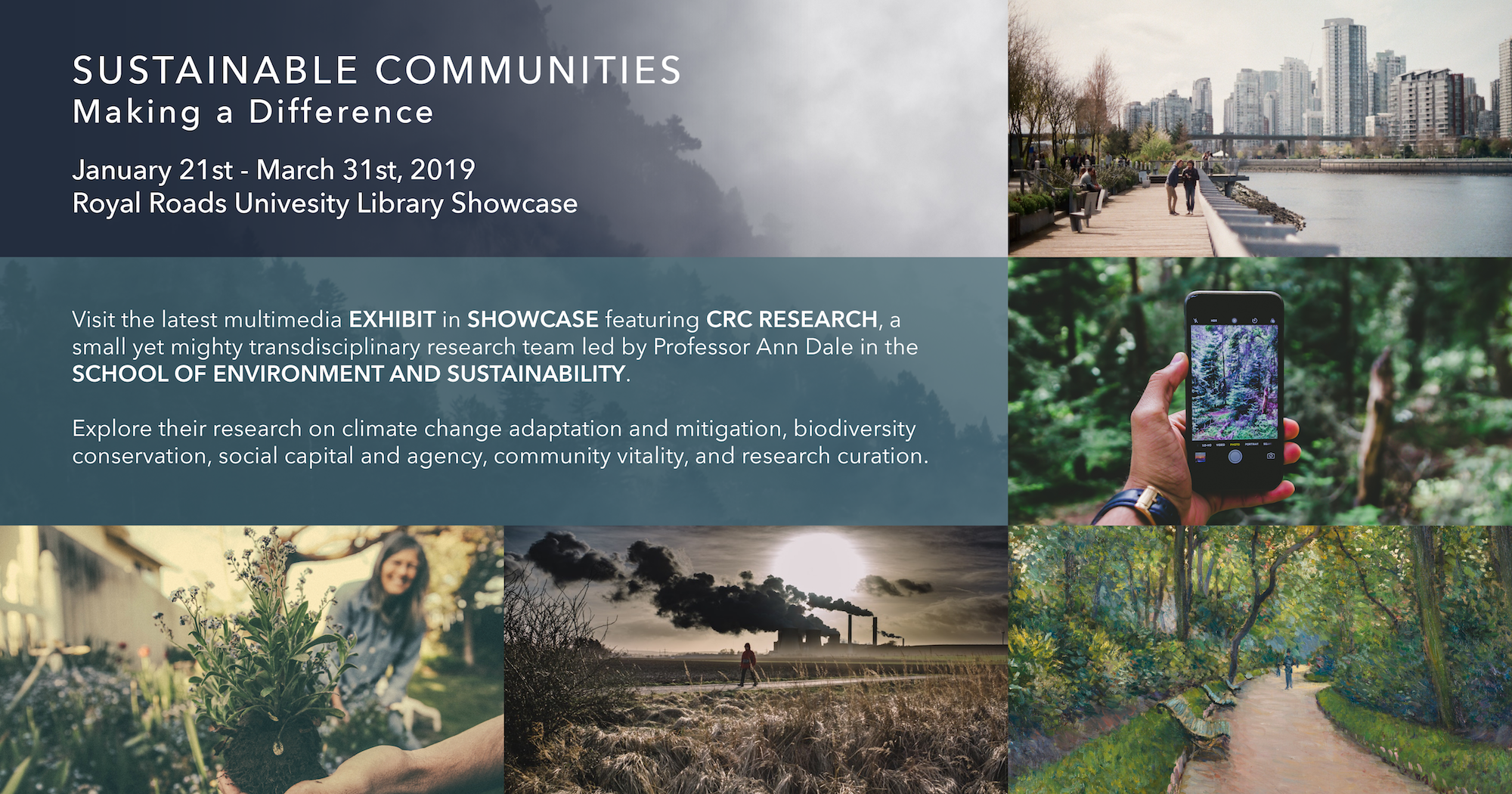 We are pleased to announce the opening of our Sustainable Communities: Making a Difference exhibit in Showcase, the Library's space for promoting Royal Roads' innovative, applicable, and real-world research. The exhibit will run from Monday, Jan. 21 to Sunday, March 31, 2019.
Sustainable Communities: Making a Difference was curated by CRC Research, a small yet mighty transdisciplinary research team led by Professor Ann Dale in the School of Environment and Sustainability. Established during the Canada Research Chair (CRC) in Sustainable Community Development (2004-2014), Dale's team investigates a variety of critical social issues to uncover solutions to some of the most pressing issues we face in Canada. CRC Research is deeply committed to making a difference with their research. Their main goal is to build civic literacy and useful knowledge that not only helps guide the Canadian public onto more sustainable pathways but also contributes to more evidence-based policy-making. To achieve this, they do everything from designing data visualizations and conducting climate change research in British Columbia, to curating content across their social media channels and hosting virtual conversations about biodiversity conservation.
Throughout this research exhibit, CRC Research has featured a series of projects that embody the core subjects, themes and methodologies that drive their research process. These most notably include sustainable community development; climate change adaptation and mitigation; biodiversity conservation; changing the conversation; knowledge mobilization; and transdisciplinary collaboration to make a difference in our lifetimes. In striving to affect change through the production of evidence-based research, they hope to engage the hearts and minds of the public, leading to more sustainable communities.