As the Trump Administration announces their plans to withdraw the U.S. from the Paris Climate Agreement, other countries are set to take the lead in reducing global carbon emissions. According to this Guardian article, Beijing and Brussels are forging an alliance to accelerate "the global transition to clean energy" and ensure implementation of the agreement worldwide. They are poised to make a joint statement at the EU-China Summit in Brussels this week announcing how they intend to "promote the implementation of the deal in Paris" and the "use of clean energies". Their declaration reaffirms their funding commitments to help developing countries meet their targets, announces the launch of a clean-energy cooperation, and outlines "measures on energy efficiency, low-emissions transport and low-carbon cooperation between cities". Furthermore, the EU has agreed to increasingly share their technological, legal, and regulatory knowhow of this field.   
Despite the U.S. government's opposition to fighting climate change and the backwards steps they are taking, progress cannot be halted. In a historic vote, 62% of ExxonMobil shareholders voted for the company to "more clearly report how climate change affects" business. This resolution for more transparency directly counters management and illuminates their insufficient response to protecting the "long-term economic interest of their clients" according to this Guardian article.
The world will continue to move forward, despite the U.S. joining Syria and Nicaragua as the only countries not committed to the Paris Climate Agreement. As climate change is one of the key human imperatives of the 21st century, collective leadership is required to ensure aggressive efforts to reduce global climate emissions do not unravel. The U.S., however, may diminish their role as a global superpower and could be left behind in the dust.   
To learn how Canada can leap forward to a low-carbon energy transition, check out Re-Energizing Canada: Pathways to a Low-Carbon Future.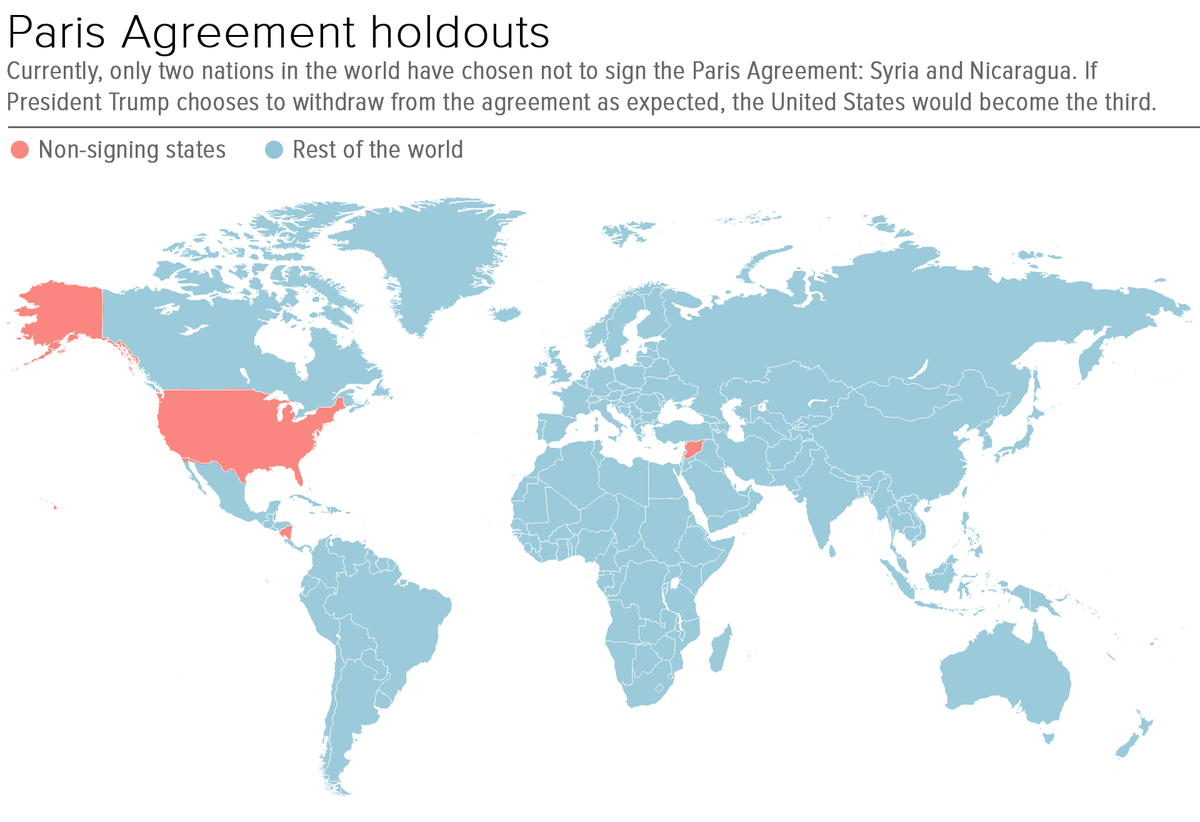 "Paris Agreement holdouts", by Bob Al-Greene via Mashable