In 2008, Norway established a lifeline for humanity to ensure the survival of our precious food supply. On the Arctic island of Spitsbergen, the Norwegian Government built a "failsafe" freezer vault in a permafrost mountain located in the Arctic circle. Intended as insurance for the world, it was filled with nearly a million packets of seeds, each containing an important global food crop. As 2016 was the warmest year in recorded history, Spitsbergen was hit hard with heavy rain instead of light snow. With temperatures rising to 7C above normal, the 100m tunnel leading to the vault was flooded with meltwater and subsequently frozen in the -18C controlled environment. While no seeds were lost according to this Guardian article, rising Arctic temperatures are causing the vault managers to question whether or not it can, in fact, exist as a lifeline if disaster hits. Workers picked the ice from the tunnel and installed additional weatherproofing features, however, it is now under 24-hour surveillance. This nearly-disastrous event illustrates how climate change cannot be planned for with certainty, rather we must anticipate surprise and unexpected consequences as we tread uncharted territory, or in this case, waters.
Take an interactive tour of the Global Seed Vault here.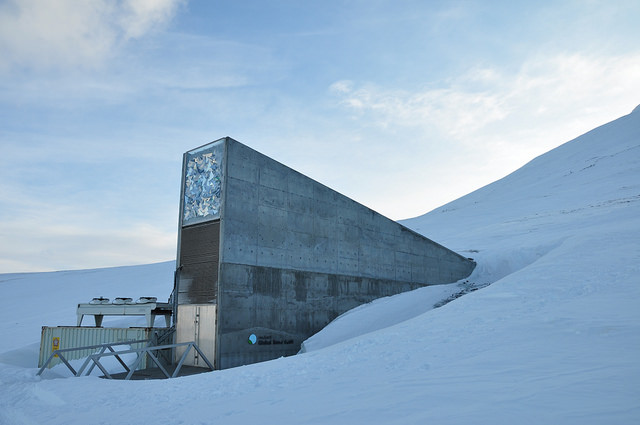 The Svalbard Global Seed Vault. Global Crop Diversity Trust. Image via Flickr under Creative Commons License.