"How happy I am to be able to walk among the shrubs, the trees, the woods, the grass, and the rocks — no one can love the countryside more than I do — for the woods, the trees, and the rocks give a man the inspiration he needs".
—Ludwig van Beethoven
Ludwig van Beethoven (1770-1827, born in Bonn) is arguably one of the most famous and influential composers in Western music. Not only was he a key figure in the transition from the Classical to the Romantic Ages, but his innovative compositions "re-made and remoulded " many musical structures (sonata, symphony, etc.) according to this Classic FM article. Furthermore, he gained a reputation as a master pianist and composer despite the devastating deterioration of his hearing.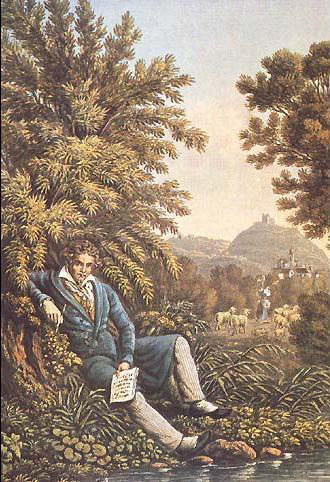 By now, you may be wondering how Beethoven relates to our work. Well, he was famously known as a lover of nature. He regularly left the bustling city of Vienna for quiet refuge in the countryside, which played muse to many of his compositions. A lot of his music references elements of nature, most notably Symphony No. 6 in F major, Op. 68 commonly known as the Pastoral Symphony. Composed in 1807 and 1808, it includes musical onomatopoeias of quail, nightingale, and cuckoo calls according to this webpage. It also contains descriptive passages of a murmuring brook and a thunderstorm with lightning and rain. Pastoral Symphony fundamentally represents the connections between mankind and nature, focussing on the feelings of gratitude and peace people experience while surrounded by forests, streams, and animals.
See the names of the five movements from Pastoral Symphony below:
"Awakening of cheerful feelings upon arrival in the countryside"
"Scene by the brook"
"Merry gathering of country folk"
"Thunder and storm"       
"Shepherd's song; cheerful and thankful feelings after the storm"
Beethoven was also no stranger to pollution, especially since he lived through the Industrial Revolution. With unsanitary drinking water, polluted city air, and the destruction of nature, his escape to the countryside to compose is symbolic of his reverence and appreciation of the natural world. To honour his 250th Birthday, Beethoven's Pastoral Project is calling on artists from across the globe to come together to create their own "visions of a harmonious co-existence of mankind and nature". Musicians will perform the Pastoral Symphony on June 5th, 2020, the United Nations World Environment Day. As a "global statement for the preservation of nature", this project is drawing attention to environmental protection, global sustainability, and "achieving the aims of the Paris Climate Agreement".
The Beethoven Pastoral Project was officially launched in Bonn, at the UN World Climate Conference (COP 23) on 15 November 2017. To learn more about this project and to apply to participate, click here. 
Image of Beethoven composing by a brook open source via Wikimedia Commons