As discussed in a previous blog post, plastic has become a part of the ocean food chain. If nothing is done to curb the dumping of 8 million tons of plastic each year, the ocean will contain more plastic than fish by 2050. Just 14% of global plastic packaging is recycled while the rest, worth $80 billion-$120 billion, is thrown out after just one short use according to this video. However, many are working hard to find solutions.
Two years ago, the Ellen MacArthur Foundation launched the New Plastics Economy, an ambitious initiative working to build a new plastics system. Drawing on the principles of the circular economy, their goal is to transform the 'take, make, dispose' economy into one where plastics are designed to be used over and over again. Coca-Cola, PepsiCo, and Walmart are already onboard with plans to move towards 100% reusable, recyclable, or compostable packaging by 2025.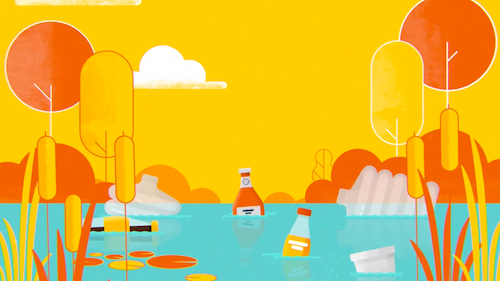 Screenshot via The New Plastics Economy Video
As part of the initiative, they hosted the $2m New Plastics Economy Innovation Prize that invited on designers, entrepreneurs, academics, and scientists "to rethink the plastics system and to eliminate plastic packaging waste". They also challenged participants to tackle the 30% of plastics that currently cannot be recycled—namely chips bags, tear-off lids, sachets, and other packaging that is "made up of complex or multilayer materials" or are too small for recycling according to this Fast Company article. Participants were encouraged to innovate, collaborate, and rethink in order to invent materials that help the world transition towards a 'produce, use, recover' system.
During the World Economic Forum in January, they announced the latest winners of the prize. From wood, plant, and seaweed-based materials to nano-engineered food packaging, there was a whole host of winning designs. Now the winners will collaborate with Think Beyond Plastic in a 12-month program to "make their innovations marketable at scale". 
Check out the winning designs here.