The largest university in the UK is going fossil free by selling all their investments in the fossil fuel industry! They are joining the increasing number of more than 60 universities in the UK that are divesting their assets from fossil fuel exploration and production.
The divestment campaign across the world has gained momentum, with the World Bank, Bank of England, Axa Insurance, and New York City Council, many major investment firms and a large number of institutions have pledged to divest from fossil fuel. These come from the increasing risks perceived by corporate leaders considering these investments as bad on both financial and ethical grounds.
Major campaigns in the past, most notably against polluting tar sands and pipeline constructions such as the Standing Rock Native American reservation, were fed through social media and erupted into a global protest action, bringing the battle before the world.
In addition to high-profile protests, current university divestments also show how student activism, both on and off-campus, is helping us to move further, or at least faster, away from fossil fuel technology towards a more sustainable, low-carbon economy.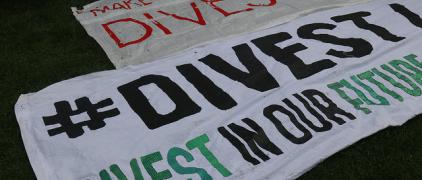 Source: Fossilfreegm.org.uk