Amid current floods triggering states of emergency and forced evacuations in Quebec, Canada's National Building Code is being updated to address the imperative and very urgent challenges posed by climate change. Changes in the building code are expected to prevent $300 billion in damages from infrastructure failures linked to climate change.
The code's revisions attempt to prevent damages from a wide range of extreme weather events such as increasing storms and floods. For example, it will address resilient roofs to flood-resistant pavements. While specific code elements are expected to be completed between 2020 and 2025, provincial and territorial governments will have the final say on how the code will be applied in their jurisdictions.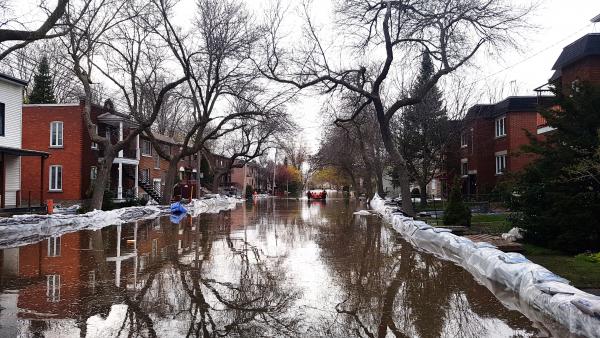 ​
Cartierville neighborhood of Montreal, 8 May 2017 (Image via Wikimedia Commons)
Nevertheless, local and provincial building codes have already adopted changes. For example, British Columbia has adopted new codes that increase resilience and address climate change adaptation as part of their major objectives. In Vancouver, they plan to expand their codes as seen in the 2019 Vancouver building by-law proposal.
While costs associated with the new building code might seem steep at first, higher energy-efficiency and resiliency in new buildings will ensure structures last longer and will lower operating costs. Representatives from the construction industry and government officials welcomed the efforts. However, implementation in building retrofits will be more challenging since local governments are more restricted when it comes to encouraging owners to carry out such efforts.
Topic