Support is making a splash at the 2017 Venice Biennale. This monumental sculpture, crafted by artist Lorenzo Quinn, depicts giant ceramic hands reaching from the Grand Canal in Venice to brace the Ca' Sagredo Hotel. Venice floods every year between autumn and early spring so locals are used to walking along temporary pathways while sporting rubber boots. But couple this with a sinking foundation of wood and rising sea levels, and the future of this historic city is in jeopardy. A report published in Quaternary International revealed that the city will be completely underwater by 2100 if global warming is not curbed. Support is intended as a statement that illustrates the devastating effects of climate change. As the Mediterranean Sea continues to rise, the artist is calling attention to "the role people must play in supporting Venice's unique world heritage".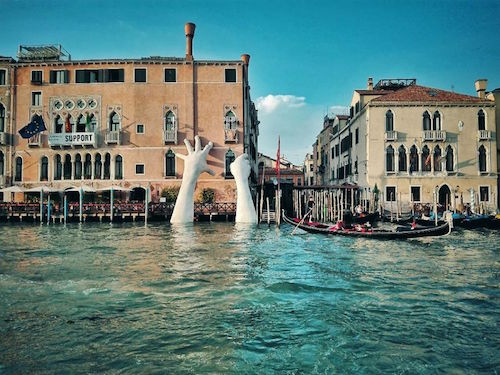 Support Sculpture by Lorenzo Quinn. Image credits: Giacomo Click Moceri via Bored Panda.
The Ministry of Infrastructure and Transport has been working on the MOSE Project to protect the city for years. Visit their website to learn more about this mobile barrier built to protect the city from floods. 
Support by Lorenzo Quinn - Venice Biennale 2017 from Lorenzo Quinn on Vimeo.