The Prairie Climate Centre at the University of Winnipeg just released the ambitious new Climate Atlas of Canada. Projecting the impact of climate change in major cities across our country, it gives Canadians insight on how our warming climate will impact us locally. To bring issues closer to home, the atlas gives people the necessary tools to understand climate change for themselves. It uncovers what will happen in our own backyards if we don't leap towards more sustainable pathways. Much like CRC Research's goal in communicating our research, the Prairie Climate Centre's aim is to inspire action on the ground at local, regional, and national levels.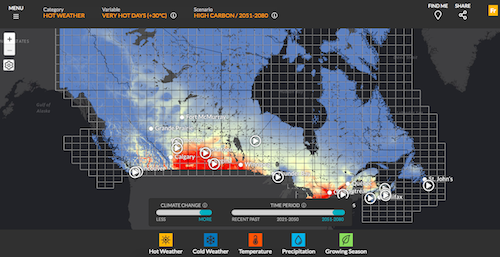 Climate Atlas Screenshot via https://climateatlas.ca/map/canada
So how does the atlas work? Containing data for roughly 2,000 regions across the country, "the 250-layer interactive map is based on data from 12 global climate modules" according to this Globe and Mail article. Users can select from 25 climate variables, including "growing season", "precipitation", "temperature", "cold weather", and "hot weather". They can also compare temperatures changes from the past (1976-2005) with low- or high-carbon scenarios of the future (2051-2080).
With a goal to make climate science more understandable and meaningful to Canadians, the Prairie Climate Centre use compelling and plain language to describe and analyze maps, graphs, and data. According to their website, their user-friendly atlas is one of the only tools that "integrates interactive web design with climatology, cinema, and cartography". They even collaborated with "local and Indigenous knowledge holders, and other experts" to create a series of documentaries complimenting the data (they conducted over 300 interviews!). Sharing lived experiences and illuminating the human dimension, the videos "help explain the reality and the meaning of climate change in Canada". They also created reports for each major city in Canada highlighting findings from the atlas. Victoria might get a lot wetter in the Fall and Winter, and a lot hotter in the summer if we don't transition from risk to resilience now (PCC slogan). Learn about Victoria's potential future here.