In this interview with Texan scientist, Katharine Hayhoe, she states "opposition to climate change is a symptom of a society that is politically polarised between those who cling to the past and those who recognise the need for a better future" and that "a thermometer is not liberal or conservative". 
There are some promising signs that we are moving forward, as trillions of dollars are being taken out of carbon-intensive economies. This article by the Economist talks about decarbonised capitalism and offers some interesting solutions to curbing our addiction to fossil fuels by agreeing on a price on carbon-dioxide emissions that will rise from $50 a tonne in 2025 to $200 a tonne in 2050.
We need to scale up the adoption of zero-carbon technologies, embrace collaboration as well as competition, as industrial leaders work together to accelerate even greater innovations. "Mass electrification, from zero-carbon sources, could stimulate new industries and further decentralise the global economy. It could absorb some of the surplus savings that exist in parts of the rich world, provide plentiful demand for jobs to meet the engineering challenges and ease energy poverty in poor countries...using human ingenuity to build a post-carbon future could be a big economic, as well as environmental, opportunity".
The article warns, however, that the level of political ambition is missing to accelerate the potential and the possibilities of climate innovation.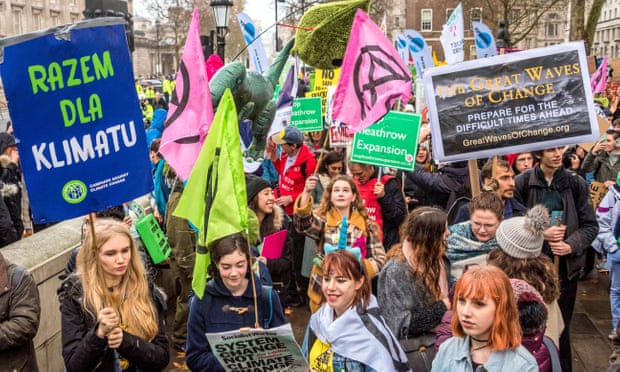 ​
Extinction Rebellion marching with other groups through London in December last year. Photograph: Guy Bell/Rex/Shutterstock
Topic