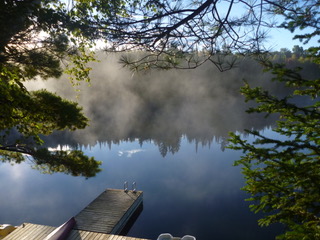 As we in Ontario and Quebec leave the summer that never came, those on the East and West Coasts experienced record high temperature, drought and wildfires. In my 32 years at the lake, this is the least I have ever swum, and we now enter the Fall and renew our research efforts.
This year will be busy, concluding our 5-year climate change research on climate innovations in British Columbia and understanding the nature of transformative change in development paths. We continue our research into sustainable community development and I am pleased to inform you that I have just finished another book, Edging Forward.
The book is about the power of stories that shape our development and influence our ability to act now on climate change. Not exactly a sequel to my previous publication, At the edge, it is an evocative call for immediate action to move from edging forward to leaping onto new, sustainable pathways. Edging Forward is supported by one of the richest online living libraries of over 15 years of research from my Canada Research Chair that will be published at the end of September. The accompanying art exhibit featuring paintings by Nancyanne Cowell will be hosted at the Robert Bateman Centre from October 10th - November 10th, 2017. A soft book launch and exhibit opening will take place on October 12th, 2017.
We are also launching a new research project exploring how to integrate contemporary museum practices with research knowledge mobilization, something we have defined as research curation. Click here for more information.
As a child, I always felt sad leaving summer and having to back to school, to sit inside for hours on end. After this summer, I am looking forward, hopefully, to less rain and more than a week of continuous sun. The gardens, however, thrived and above is a picture of my beloved lake in Quebec.