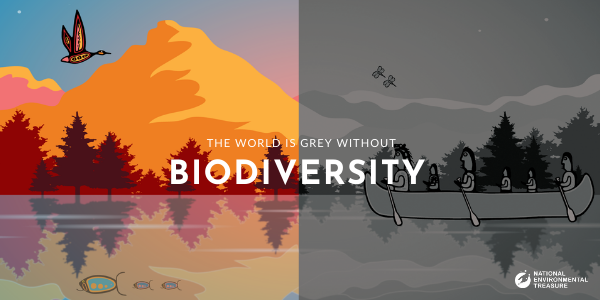 National Environmental Treasure (NET) - New national campaign for action on biodiversity loss in Canada
With the doom and gloom often associated with biodiversity loss and climate pollution, NET's goal is to communicate tangible solutions, engage Canadians with the science while blending the arts. The campaign builds upon the publication of the biodiversity action agenda, co-authored by 20 prominent Women for Nature of Nature Canada, outlining 24 policy solutions.
Biodiversity is essential for human survival and our vitality. It provides us with the basic necessities of life like food, water, energy and building materials. It also contributes to our quality of life and wellbeing. 
1 million species already face extinction and many are disappearing 1,000 to 10,000 times their natural extinction rate. Since 1970, 60% of all mammals, birds, fish and reptiles, and two-thirds of all invertebrates like bugs and bees, have been lost. Imagine a Canada without the polar bear or the call of the loon in spring.
"The scale and diversity of Canada's nature, its National Environmental Treasure, is of irreplaceable value not only to Canadians but to the world," says Jeremy Guth, a trustee of the Woodcock Foundation. "As the world's second largest country in territory, with some of the last great intact ecosystems left anywhere, we have a global responsibility to protect their vitality — to ensure that they continue to contribute their significant and essential natural response to climate change and other anthropogenic effects that threaten all life on this planet."
However, Canada is close to achieving the 2020 Biodiversity Goals and Targets, in which 17% of terrestrial and inland waters (almost achieved) and 10% of coastal and marine areas (already achieved) are protected.
BUT WE CAN DO BETTER. LET'S PROTECT 30% BY 2030!
 
"We often take for granted what we love — our relationships, our health and nature. Let's act now to protect as much space and habitat as possible, before we lose any more Canadian icons such as polar bears and the call of the loon in the Spring," says Professor Ann Dale, NET chair. 
To reach Canadians from across the country, NET will run outreach activities via social media, a collaborative blog and will produce a podcast featuring experts in conversation with Dale, on how we can make a difference.
"I applaud the focus, the innovation and the vigour NET has put into its communications to Canadians on the value of the country's biodiversity and its ecosystems and on the means by which all citizens can and must contribute to their protection," says Guth.
THE WORLD IS GREY WITHOUT BIODIVERSITY.
TOGETHER, LET'S CONSERVE THE COLOURS IN OUR WORLD.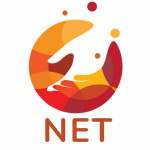 About the National Environmental Treasure
The National Environmental Treasure (NET) is a people's trust fund devoted to the exclusive funding of Canadian environmental organizations, to increase their core capacity in critical areas such as environmental literacy, infrastructure support, public communications, and operational sustainability. We are particularly interested in supporting under-funded smaller and medium-sized organizations, working in local communities and regions. Our goal is to build a $30 million-dollar public charitable foundation for the environment — the equivalent of every Canadian donating a "loonie" for their environment.
Ann Dale, Board Chair, is available for interviews.
For more information or to book an interview, please contact:
Jaime Clifton-Ross
Communication and Outreach Curator
jaime@oursafetynet.org | 250-216-0753
Find us on social media
https://www.facebook.com/OurSafetyNET/
https://twitter.com/Our_Safety_NET
https://www.instagram.com/oursafetynet/
https://www.pinterest.ca/oursafetyNET/
https://www.youtube.com/channel/UCDIgjeMW5yOxH9P097ka7xQ/about?view_as=public
 
* Artwork by Jason Adair and Chantelle Mussell