Reposted from Carbon Neutrality Canada.
The UN Intergovernmental Panel on Climate Change (IPCC) recently released their Sixth Assessment Report, outlining the current state of scientific, technical, and socio-economic knowledge on the global climate and presenting options for reducing the rate of climate change. 
As we previously noted, their report outlines certain actions that are necessary to avoid the worsening of climate change. SSG also offers their key takeaways from the report, highlighting eight actions that cities can take to fight climate change. Their synthesis underlines the importance of municipal climate policies and the leadership role that cities can take. They argue that every single community needs to develop their own pathway to net-zero emissions, and that beyond simply reducing emissions, local governments should deploy strategies to capture carbon and remove it from the atmosphere. They note the multiple ways in which cities will benefit from investments in climate action, while also pointing out the importance of immediately ceasing further investments in systems lock in emissions.  
The threat posed by climate change requires a multi-scalar response. It is essential that every government take action, but it is also clear that developing a coherent and coordinated response involving all levels of government is our best chance at changing our current trajectory – and potentially even reversing climate change. Cities are at the front lines of climate change, so must take on a leadership role in fighting it.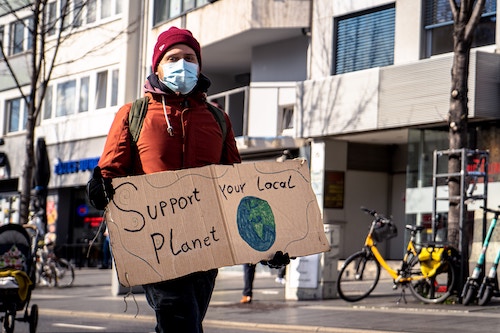 Photo by Mika Baumeister from Unsplash