As wildfires blaze out of control in Greece, residents are fleeing the encroaching flames. The evacuations of towns are taking place by land and by sea, with entire islands on alert. While wildfires may be normal, these fires are taking place as Greece appears poised to set a new record for its longest ever heat wave.
Greek firefighters are being joined by additional firefighting teams from Poland, Romania, Bulgaria, Malta, and Slovakia. International support is critical in responding to fires of this magnitude. Greece has activated an EU mechanism that responds to crises in member states, leading to the immediate mobilization of air and ground support. Firefighters from neighbouring countries Romania, Bulgaria, and Malta were already on the ground working alongside their Greek counterparts, who are now being joined by additional teams in a coordinated effort. 
International cooperation is not only important for responding to wildfires and other climate-related disasters, it is also essential for mitigating climate change and preventing future crises. As heat and weather records are being broken around the world, we need to find ways to better coordinate international efforts. How can we use the current wildfires and record-setting heat waves to galvanize deeper international cooperation in the fight against climate change?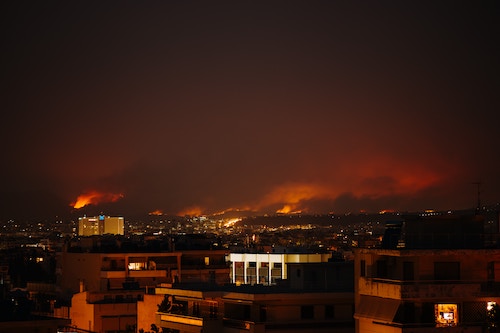 Photo by Anasmeister on Unsplash