United We Can
United We Can
Published December 20, 2006
Case Summary
In five years, United We Can, a downtown eastside Vancouver recycling project, evolved from a loose ad-hoc network of "binners" (dumpster divers) into a thriving business enterprise and an increasingly healthy community of workers engaged in providing an essential recycling service to their broader community. Today, United We Can employs 33 people full-time, most of whom had not been previously employable. On average, there are 700-750 street people visits a day, with 300 core binners coming every day. United We Can has an annual revenue of 1.6 million dollars, and recycles 50,000 bottles a day, processing more than 20 million cans and bottles each year, all of which would be lost in the waste stream without this enterprise.
Sustainable Development Characteristics
United We Can is a concrete example that by doing something good for the environment (the ecological imperative), in this case reducing waste through recycling, you create jobs (the economic imperative), thereby augmenting agency (the social imperative), and is one of the few concrete examples of 'achieving sustainable development' (Dale and Robinson 1995) in Canada.
This case study is about how people in a 'marginalized' community self-organized and then accessed outside resources to move from surviving to getting ahead by creating their own physical place, a recycling depot that makes significant reductions to the traditional waste stream, that would otherwise not occur without this social enterprise.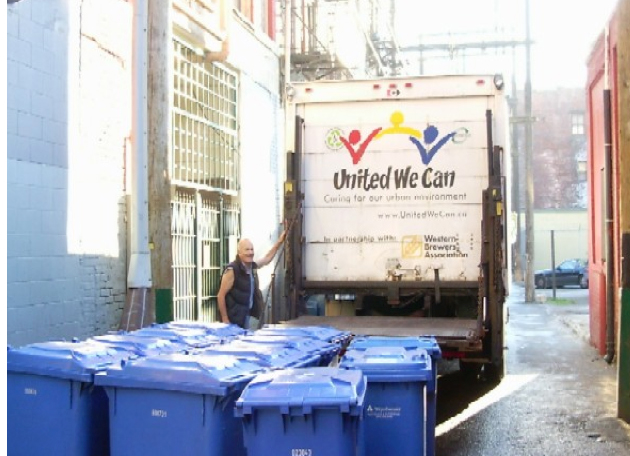 This physical place then provided a space to facilitate building collective social capital through increased connection and a sense of community, leading to psychological space for some, and for many, personal recovery.
United We Can is the only social enterprise in this country that fundamentally integrates the ecological, social and economic imperatives equally. Many initiatives are now attempting to reconcile ecological and economic imperatives, whereas the social dimension is always forgotten. Their organization is also contributing to the revitalization of a downtown community in the heart of Vancouver, that many define as marginalized.
Critical Success Factors
The following factors were identified as being crucial to the success of this initiative:
initial seed funding from local socially progressive enterprises such as VanCity;
strong leadership from within the community;
ability to access diverse types of social capital;
progressive provincial and municipal policy development;
government regulatory changes to the bottle deposit system at critical junctures;
the project had the time and space to self-develop and evolve within its own timeframe and was not driven by externally imposed deadlines or accountabilities;
the presence of other non-government organizations in the same field, such as Encorp Pacific Canada;
access to critical seed funding to build capacity.
Community Contact Information
Ken Lyotier
Executive Director and Manager
39 East Hastings Street
Vancouver, BC V6A 1M9
Tel: 604. 681-0001
Email: uwcbd@telus.net
Sandy Sigmund
Marketing Manager
Encorp Pacific (Canada)
Tel: 604. 473-2406
sandy@encorpinc.com
What Worked?
existing community experience with the activities and a deep understanding of community challenges (this was not a new activity introduced from outside the community);
community-led and driven;
a strong belief and vision in the "possibility of change";
visionary leadership by its founder;
progressive municipal policy development;
immediate tangible benefits and services directly to the community;
prudent internal financial management;
building of strategic alliances external to the community;
external communications.
What Didn't Work?
United We Can is now at another critical juncture in its evolution, very typical of small businesses as they seek to diversify both their leadership and increase skill sets and training, and as they try to expand the scale of their operations. Its very existence, in spite of its success, is critically dependent upon decisions now being considered by the City of Vancouver. The City of Vancouver is now locking some of the garbage bins in the alleyways, and the two largest commercial waste collectors who own the large bins (Waste Management and BPI) are complying with the directive from the city. Ostensibly, they are being locked to prevent fires or people sleeping in them and then getting caught when they are emptied in the morning. There is anecdotal evidence that some Vancouver residents object to the binners scavenging through the garbage in what is essentially their urban backyard. It is hoped that the initiative undertaken by another group of binners, the creation of a Binners Association, where each binner is given an identity card, a variant on a union in some ways, so that police and residents will know they are 'employees' of United We Can will alleviate some of these concerns.
Financial Costs (A) and Funding Sources (B)
A
Since 1995, United We Can is now self-sustaining and runs as a traditional business enterprise.
B
First United Church (Dendorff-Morris Trust Fund) $150.00 Victoria Park Square

VanCity Community Loan of $12,500

Anonymous benefactor donation of $12,500

Prior government funding for rent and wages to build internal capacity
Detailed Background Case Description
A binner is a street person who takes recyclable material from the big blue garbage bins hidden in the back alleys of downtown Vancouver and returns them to retailers for money. Prior to the establishment of United We Can, binners were dependent upon the largesse of store owners, who were often adverse to having street people seen in their stores, and resented taking back recoverables that they had not sold, and often convinced the binners to accept goods in lieu of cash, in some cases, items such as chewing gum.
United We Can was founded by Ken Lyotier, himself a 'dumpster diver' or 'binner'. In five years, it grew from a loose ad-hoc network of binners to a social business enterprise providing an essential infrastructure service to the broader community, recovering over 20 million cans and bottles a year, that would otherwise have been landfilled. They recycle 50,000 bottles a day, which averages out to 100 bottles sorted each minute at their depot. They average 700-750 street people a day, with 300 core binners every day.
In 1992, Ken Lyotier and a friend organized a one-day bottle depot in Victoria Square, a local park, to pay street people to bring in empty cans and bottles, which at that time were not covered by the current bottle deposit system. The event was a big success in terms of the media coverage of the 'mountain of garbage' collected and of the social capital subsequently built between the binners, normally a very solitary occupation, as they waited to be paid for their shopping carts of non-refundable bottles and cans.
The Human Resources Ministery of the British Columbia government approached the organizers to learn what had happened, and suggested that consultants be hired to organize further community workshops. The organizers of the original one-day depot convinced the Ministry that workshops should be organized from within and by the community, and that the participants should be paid as consultants for their time. Again, street people lined up for the workshops at local community centres, and had a lot of expertise to share with the government officials.
From these workshops, the binners, again building collective social capital through simply connecting with one another, realized they could run their own bottle return system, although it took about another four years for the core group to make their vision operational. It took about three years for the group to incorporate as a non-profit organization. Following this incorporation, a line of credit was secured with VanCity, and with a loan of $12,500 from their Community Loan Fund and $12,500 from a benefactor, United We Can was established as a formal bottle deposit. In its first year of operation, 4.7 million containers were recycled putting $360,000 back into the community through handling fees. At this time, the provincial government paid for the rent and the initial wages for the men and women working on the project.
The operating principle behind the organization was that it would hire people who would not be hired by anyone else, and there would be no exclusions because of active addiction or health. Ken Lyotier became its Executive Director and Manager. There were several operational difficulties in the first years, specifically convincing many of the binner community to become involved. Because the project's wages and rent were provided by the government, the group was able to initially bank all revenues. As the project grew, a major problem developed when handling fees did not cover costs. However, in 1998 the provincial government brought in new regulations to include containers not earlier covered (juice and water) and, in 1999 when polycoated containers were added, United We Can began to make money, still continuing to bank as much as it could. The organization achieved charitable status in 1996.
Following on this success, there are currently four other business streams in development. These are: The Collection Services, which through truck and tricycle hauling, is now offering container collection directly from larger volume commercial and residential consumers in the downtown area; The Bike Works which offers qualified instruction, sales and repair tools for low-income residents and depot users who need to maintain their bicycles and, as well, maintains a fleet of bicycles for small-scale local pickups; The Bintek Computer Lab, using the recycled computer equipment acquired from dumpsters by binners and received by donation, rebuilds consumer-ready systems, which are then sold at affordable prices to low-income residents; and Happy Plants, which 'recycles' plant cuttings taken from the garbage and grown into larger plants for sale to the wider public. In addition, The Crossroads & Lanes Community Clean Up campaign is a public space environmental clean up campaign designed to reclaim city lanes and make them vital links in the urban landscape.
Strategic Questions
Will the City of Vancouver and the Greater Vancouver Regional District working together with Encorp Pacific (Canada) develop a strategic partnership with United We Can, which integrates social and environmental policies to produce more efficacious results than isolated planning? Or on the other hand, will they lock down the dumpsters and effectively reverse the successes already achieved?

Will the service agencies working in the Downtown Eastside be able/willing to change their perspective to one based on social capital and how would this approach apply to United We Can?

Can United We Can successfully diversify its leadership and train others to take on more leadership roles?

Can United We Can develop a leading-edge and innovative waste management plan for the future that integrates environmental, social, and economic policies allowing it to become a showcase for sustainable community development or allowing it to become sustainable in the long term?

Will municipal and provincial governments commit to investment strategies that institutionalize projects like United We Can into their waste management systems?

Will it be possible to have unprecedented cooperation between government departments and levels of government, and to develop successful strategic partnerships between the private sector bin owners and the product manufacturers to make the United We Can type of project sustainable in the long term?
chrisling